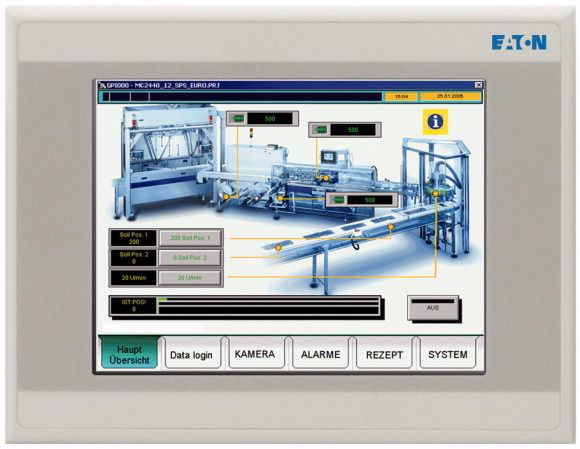 Features
With a nominal installation depth, a rugged metal case and comprehensive features as standard, the XV-152 is a hugely cost-effective solution within a highly price-sensitive sector.
Even basic version devices come with an Ethernet and RS232 interface as well as two USB interfaces for a wide range of automation tasks. The 400 MHz RISC processor can handle demanding PLC applications as well as HMI tasks and the 64 MB onboard memory can be expanded if required with an SD memory card.
5,7", 8,4" and 10,4" TFT colour display
Metal case
Resistive touch
Nominal installation depth
PLC functionality
Mounting compatible with XV400 devices
USB-Host, Ethernet and RS232 interface onboard
HMI/PLC XV-152 with SmartWire-DT for Lean Automation
The HMI/PLC merges the most modern IT technology with the classical PLC and HMI technologies. Control, visualization and data management tasks together with modern networking features are combined in one HMI/PLC device.
The touch display controls of the XV-152 series facilitate Lean Automation solutions with simple, straight-forward concepts and few components. SmartWire-DT connects all areas of the machine: From the operating level through to the visualization and control devices, from the main switch right down to the sensors and actuators. Standard fieldbus components can also be connected via the CAN and PROFIBUS DP interfaces.
Special features of the HMI/PLC:
Touch display controls based on Windows CE 5
SmartWire-DT master interface; up to 99 devices can be connected to a line of max. 600 m length
High performance using the 400 MHz RISC processor
Optimum integration into the IT world thanks to the Ethernet interface
In addition to SmartWire-DT, the CAN and PROFIBUS DP interfaces facilitate integration of standard fieldbus components
Expandable memory with a SD card
High resolution brilliant TFT displays, 64k colors
Devices with a plastic case (XV-102) and metal case (XV-152)
Easy to install in tight spaces due to its size
Installation in portrait configuration possible for all devices
UL/cUL approvals guarantee world-wide usage
SmartWire-DT I/O modules facilitate universal system solutions
Comfortable engineering of the SmartWire-DT line via CoDeSys or SWD-Assist (online diagnostic function in SWD-Assist)
Creation of visualization can be undertaken either with GALILEO, the high-performance, intuitive visualization tool, or with CoDeSys-Visu
All devices feature a web server.
XV license product certificates
The touch panels from the XV100, XV400 and XVS400 family of devices are supplied with license points saved to the device. License points are required to be able to perform certain functions with the device, such as:
XSOFT CODESYS 2/3 Runtime for the PLC function (not possible with: XV-102-A…, XV-102-H...)
Runtime for visualization with GALILEO
Communication (e. g. Ethernet, CANopen, Siemens MPI).
Number of license points at delivery:
140 license points: XV100 devices without PLC function, XV400, XVS400
240 license points: XV100 devices with PLC function.
If the device does not contain enough license points for the required functions or if a device without PLC functionality is upgraded to include it, then you must purchase additional license points.
To do this you need one or more license product certificates. They are:
License product certificates for the PLC function (LIC-PLC-...) and
License product certificates for visualization and communications (LIC-OPT- …).
License product certificates for the PLC function (LIC-PLC-...):
This license product certificate is required to unlock the PLC function in XSOFT-CODESYS 2/3. It contains a license sticker – suitable for the device type – which for legal reasons must be applied to the device.
The PLC function requires 100 license points.
License product certificates for visualization and communications (LIC-OPT- …):
For the visualization and communication, simply add the license points required for each function.
Communication connections to several devices with the same protocol must be counted only once.
From this total, subtract the points already contained on the device (e.g. 140 points). The difference is the number of license points that you must install using license product certificates for the communication protocols. Visualization with GALILEO requires 100 license points.
To determine how many license points are required for different communication protocols,
Redeem license product certificate
Order the required license product certificate.
Keep the following information available:
– Certificate number of license product certificate
– Device serial number
– Your e-mail address.
Follow the dialog in the new window that opens. 
The license product certificate is associated with a specific device through its serial number. The website generates a license code, which is immediately shown to you on the web page.
Enter the license code in your XV Panel:
– On the XV Panel: Press [Start] -> [Programs] -> [Control Panel]
– Double-click the "License" icon.
– You can call up the "License Administrator" tool to enter the license code by pressing the "Change Licence" button.
Restart the XV Panel.
Once the device has rebooted, the new license point level will be available.
Other Pictures
Article No

Product Code

Product Description

HMI with touch display XV-152

150525

XV-152-D0-57TVR-10

Touch Display  HMI 5,7", Color, Eth,RS232

150526

XV-152-D4-57TVR-10

Touch Display  HMI 5,7", Color, Eth,RS232,RS485

150527

XV-152-D6-57TVR-10

Touch Display  HMI 5,7", Color, Eth,CAN,RS232,RS485

150528

XV-152-D8-57TVR-10

Touch Display  HMI 5,7", Color, Eth,Profibus,RS232,RS485

150601

XV-152-D0-84TVR-10

Touch Display  HMI 8,4", Color, Eth,RS232

150602

XV-152-D4-84TVR-10

Touch Display  HMI 8,4", Color, Eth,RS232,RS485

150603

XV-152-D6-84TVR-10

Touch Display  HMI 8,4", Color, Eth,CAN,RS232,RS485

150604

XV-152-D8-84TVR-10

Touch Display  HMI 8,4", Color, Eth,Profibus,RS232,RS485

150607

XV-152-D0-10TVR-10

Touch Display  HMI 10,4", Color, Eth,RS232

150608

XV-152-D4-10TVR-10

Touch Display  HMI 10,4", Color, Eth,RS232,RS485

150609

XV-152-D6-10TVR-10

Touch Display  HMI 10,4", Color, Eth,CAN,RS232,RS485

150610

XV-152-D8-10TVR-10

Touch Display  HMI 10,4", Color, Eth,Profibus,RS232,RS485

HMI/PLC with touch display XV-152

150529

XV-152-D6-57TVRC-10

Touch Display  HMI-PLC 5,7", Color, Eth,CAN,RS232,RS485

150600

XV-152-D8-57TVRC-10

Touch Display  HMI-PLC 5,7", Color, Eth,Profibus,RS232,RS485

166700

XV-152-E6-57TVRC-10

Touch Display  HMI-PLC 5,7", Color, Eth,CAN,RS232,RS485,SmartWire-DT

166701

XV-152-E8-57TVRC-10

Touch Display  HMI-PLC 5,7", Color, Eth,Profibus,RS232,RS485,SmartWire-DT

150605

XV-152-D6-84TVRC-10

Touch Display  HMI-PLC 8,4", Color, Eth,CAN,RS232,RS485

150606

XV-152-D8-84TVRC-10

Touch Display  HMI-PLC 8,4", Color, Eth,Profibus,RS232,RS485

166702

XV-152-E6-84TVRC-10

Touch Display  HMI-PLC 8,4", Color, Eth,CAN,RS232,RS485,SmartWire-DT

166703

XV-152-E8-84TVRC-10

Touch Display  HMI-PLC 8,4", Color, Eth,Profibus,RS232,RS485,SmartWire-DT

150611

XV-152-D6-10TVRC-10

Touch Display  HMI-PLC 10,4", Color, Eth,CAN,RS232,RS485

150612

XV-152-D8-10TVRC-10

Touch Display  HMI-PLC 10,4", Color, Eth,Profibus,RS232,RS485

166704

XV-152-E6-10TVRC-10

Touch Display  HMI-PLC 10,4", Color, Eth,CAN,RS232,RS485,SmartWire-DT

166705

XV-152-E8-10TVRC-10

Touch Display  HMI-PLC 10,4", Color, Eth,Profibus,RS232,RS485,SmartWire-DT