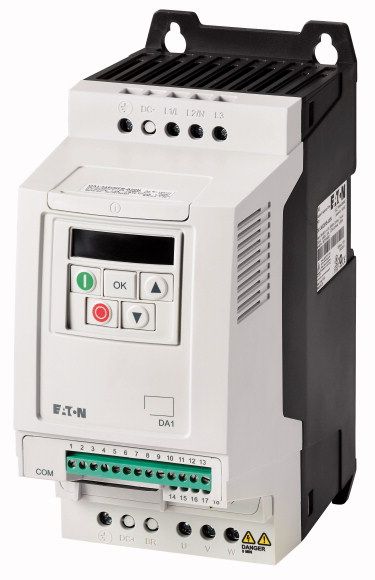 DA1 variable frequency drives are the perfect match for demanding, speed-dependent applications.
The DA1 features sophisticated modularity, advanced motor control performance and an enhanced operating range of 0.75 kW to 250 kW. Additionally, a number of comprehensive expansions (communications, I/O, etc.) are available.
The basic features of DA1 variable frequency drives enable users to get started immediately on a wide variety of applications. For example, they come with an integrated EMC filter and braking transitor, as well as on-board Modbus RTU and CANopen protocols.
Features
High overload capability: 150% for 60 sec., 200% for 4 sec.
Integrated Modbus RTU and CANopen
Ambient air temperatur of 50° w/o derating (IP20, IP55 and IP66*)
(* Units with highest rated current within a frame size are derated for 50°C use.)
Integrated EMC filters
Integrated brake chopper, option
V/F control, vector SL and CL, PM motor, BLDC motor, SynRel motor
Various I/O expansions
field bus modules, option
Safe Torque Off (STO, SIL 2/Pld)
Integrated text display OLED, option
International standards (CE, UL, cUL, c-Tick, RoHS, Gost-R, UkrSEPRO).
Accessories
Communication modules (PROFIBUS, PROFINET, Ethernet/IP, EtherCAT, DeviceNet, etc.)
I/O expansions
Ext. keypad
Mains chokes
Motor reactors
Sine-wave filters
Brake resistors
drivesConnect parameter software
Communication system SmartWire-DT
Manufacturers of machines and systems strive to achieve a balance between the maximum level of functionality and cost optimization. Eaton has inaugurated a new age in connection technology between the individual control panel components with SmartWire-DT®. SmartWire-DT® replaces the control wiring in all components right down to the sensor, thus enabling direct and continuous communication between the central control and moving plant components. Complex wiring becomes unnecessary, remote intelligence is created and entire device levels are eliminated, including of course the associated procurement and maintenance costs.
Features
Reading and writing of cyclic and acyclic data
Complete range of commands to control the variable frequency drive
Complete range of commands for setting the parameters of the variable frequency drive
Complete access to status, error and diagnostic messages
Fast and error-free wiring using plug-in units
Cost optimization specific to series mechanical and plant engineering
Codesys function blocks allow all PowerXL variable frequency drives to connect easily to the Eaton PLC and HMIs.
drivesConnect parameter configuration software
drivesConnect is a powerful tool that can be used with DC1 and DA1 variable frequency drives in order to configure parameters, run diagnostics and adjust PLC functionality settings.
Special Features
Clearly laid-out parameter structure
Parameters can also be easily edited offline
Monitor function: real-time process data, such as motor current and motor frequency, is graphically displayed
PLC functionality available for DA1; logical operators can be easily set up
Permits the use of communications via Bluetooth with a communications stick (DX-COM-STICK)
Other Pictures