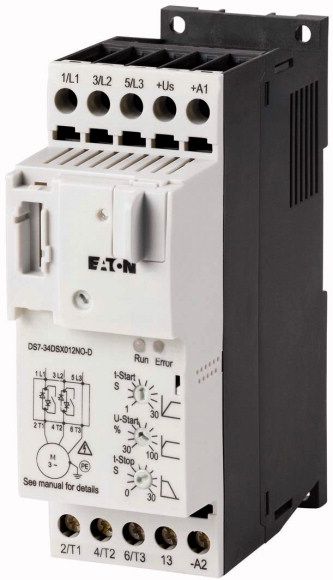 Soft Starter DS7
Moeller® series
The DS7 is Eaton's solution for judder-free motor starts with power network protection. It is the perfect alternative to direct-on-line or star-delta motor starting. With the three phase motor currently the optimum drive for simple and cost effective machine and system building, the DS7 is the ideal solution.
Softstarter DS7 with SmartWire-DT
SmartWire-DT reduces the wiring effort and expense on many switchgear systems by as much as 85% - a cost-effective and simple wiring solution.
The motor starter from the standard range
The soft starter DS7 is connected to the motor-protective circuit-breaker PKZ by a tool-less and plug-in assembly process. The soft starter DS7 is powered via the SmartWire-DT power lines.
Additional benefits:
Reduction of the I/O level
Plug-in control wiring avoids wiring faults
Detailed diagnostics:
- Access to all parameters (read and write)
- Reading and overwriting the set manual device parameters
- Diagnostics and status messages available.
Access to parameters via a service laptop parallel to the PLC, even during ongoing operation.
Additional features in conjunction with the motor-protective circuit-breakers with electronic wide-range overload protection PKE:
Device protection against overload
Additional protection of the soft starter against too many starts per hour
Overload relay function (on overload the DS7 switches off instead of the PKE)
Diagnostics and status messages available via SmartWire-DT
- Increases the system availability by the transfer of process relevant data,e.g. motor current, switch settings, etc.
- Saves time-consuming troubleshooting during commissioning and maintenance
Adjustable current limitation function
DS7
Mains connection:
230 – 480 V ±10 %, 50/60 Hz
Control voltage:
24 V AC/DC / 110 – 230 V AC
Rating range:
4 – 32 A (1,5 – 15 kW at 400 V)
41 – 200 A (22 – 110 kW at 400 V)
Power feature:
Reduction of the I/O level
AC53b, inductive load with internal bypass, 10 starts per hour with 3-fold starting current for 5 seconds
Higher number of starts per hour with optional fan
Savings potential:
The reduction of peak-currents and the lower wear of the machine ensures that you get the following comparison between conventional solutions, Soft Starters and Frequency Inverters.
Service costs include costs for device change of aged contactors, belts and gear boxes as well as the cost for different peak load costs.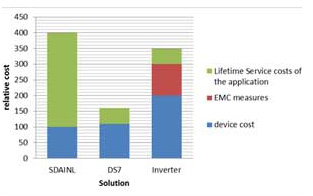 Motor voltage – soft start
With the soft starter, gating control is used to reduce the motor voltage, then within a predetermined ramp-up time (tSTART), is raised to the mains voltage from an easily-set starting voltage (USTART). In this way, the smooth starting and stopping of the motor protects the mechanical devices connected to it from being subjected to the load with a jolt, and it prevents current peaks and therefore voltage dips in the electrical supply network.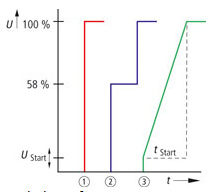 Motor torque – reduced load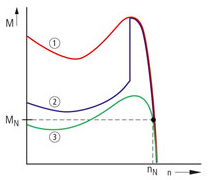 Current and voltage fluctuations during start-up can lead to problems in the network. The resulting abrupt torque fluctuations place stress on machines, necessitating service work and influences on production quality. A soft starter allows you to minimise these disadvantages. It ensures a smoother torque characteristic and reduces your operating costs.
Motor current – damping current peaks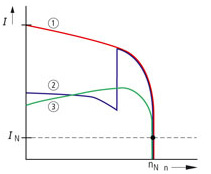 Power supply companies are demanding increading adherence to certain current limits. The aim is to avoid overloading the network due to high inrush currents during direct-on-line starting or current peaks during star-delta starting, in order to prevent unpleasant side effects such as voltage dips. Since the current limit can be set on soft starters DS7-34D…, they provide the ideal solution.
Other Pictures