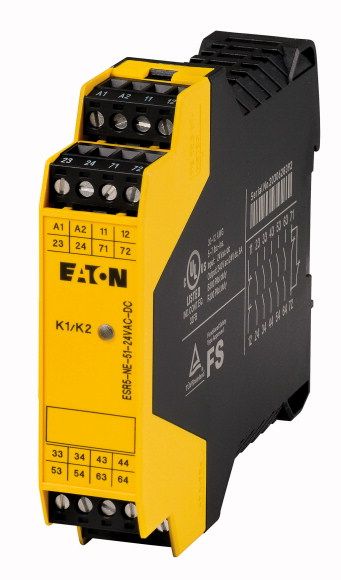 Safety relay ESR5
The potential hazards of machine movement must be reliably managed. The Eaton ESR5 safety relay monitors safety devices such as Emergency-Stop buttons, safety guards, light curtains and two-hand controls. In the event of an unsafe condition being detected, the ESR5 safety relay will quickly switch off power to the machine.
Safety functions:
Stopping in an emergency (EMERGENCY-STOP disconnection)
Eaton provides one and two-channel variants for the implementation of safety-oriented applications. The internal logic of the safety relays monitors the safety circuits (Emergency-Stop, safety door) and activates the enable paths when in a fault-free state. The enable paths are switched off after actuation of the safety devices or in the event of a fault. Faults which occur in the control circuit such as an earth fault, cross-short and open circuits are reliably detected. Activation of the enable path is prevented in the event of a fault.
Monitoring movable guards
Accessible hazard areas must be secured. The position of the movable safety device is detected using position switches or non-contact sensors, which are monitored and evaluated by a secure logic unit. A risk assessment provides the necessary degree of risk reduction through the safety device.
Monitoring light curtains
The access to dangerous zones is monitored by light curtains. An accidental or unallowed intrusion into dangerous zones is detected and evaluated by safety relays ESR.
Two-hand monitoring
Compliant to the highest safety standards
Narrow width
Many safety switching contacts and up to 5 enable and 2 signal current paths
Approved to TÜV Rheinland, UL/CUL, CSA
Other Pictures