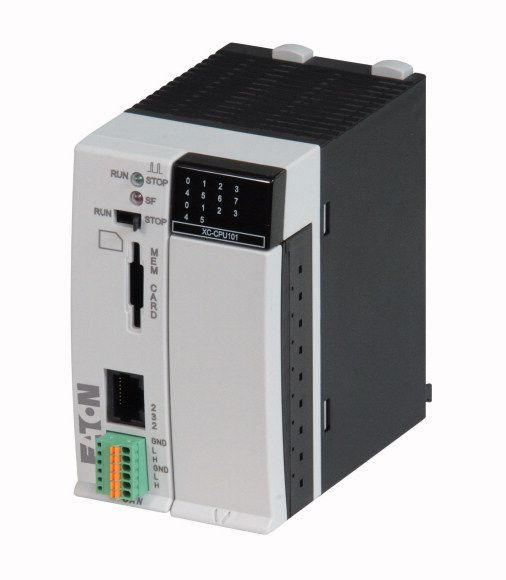 Modular PLCs XC
Modular PLCs have a freely scalable structure making them suitable for a wide spectrum of applications. Users have the flexibility of designing their automation systems to fit their own requirements. Additional features include integration into modern communication concepts and networking options.
XC100
The modular PLC of the XC100 series is for small and medium-sized control tasks. The series can be expanded locally with up to 15 XI/OC modules. All XC-CPU101-XV devices feature a WEB server.
XC200
The modular PLCS of the XC200 series feature high performance and excellent communication features. In addition to an RS232 interface and a CANopen fieldbus interface, the series features an integrated Ethernet interface. All XC-CPU-XV feature an integrated WEB server.
XI/OC input/output expansion modules
Compact I/O system for connection to the XC100/200 modular PLCs
XC100/200 can be extended with max. 15 XI/OC modules
Terminations can be made via a screw terminal or tension-clamp technology
Approvals UL/CSA
XSoft-CoDeSys-2
XSoft-CoDeSys-2 is a programming system, based on 3S for industrial plc compliant with the international Standard IEC 61131-3. The XSoft-CoDeSys-2 programming software is a continuation of XSOFT-PROFESSIONAL.
Advantages:
Simple handling
Sophisticated technical properties
A range of important functions to quickly and efficiently debug, test and commission control applications
Integrated online simulation
Structuring the application into several independent runtime programs (multi-tasking)
Fieldbus configurator
Further availability of automation components from different manufacturers
Programming languages::
Instruction list (IL) and structured text (ST)
Function block diagram (FBD)
Freely definable graphical function block chart/continuous function chart (CFC)
Ladder diagram (LD)
Sequential function chart (SFC)
Other Pictures