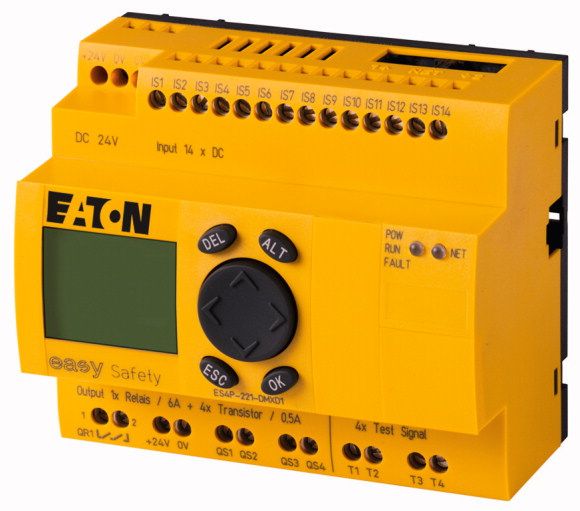 Safety-related control relay easySafety
Moeller® series
During machine-based manufacturing, a range of safety-related components such as position switches or Emergency-Stop switches are used to guarantee the safety of man and machine. The safety-oriented control relay easySafety simplifies the monitoring and evaluation of these safety-related signals.
The control relay easySafety is a TÜV certified all-rounder. The simple operation and variable configuration of the safety and control functions guarantee quick error diagnostics with the installation and machine components. Configuration is undertaken either directly on the device or on the PC using the easySoft-Safety software. It is possible to select between stand alone or integrated solutions in the easyNet network.
Features
Safety and standard functions in one device
Ready-made and tested safety function blocks
Manipulation protection through integrated software
Fast error diagnostics through integrated display
Reduction of the stockkeeping costs by a range of relays in one single device
Comfortable operation directly on the device
Direct data exchange with the PLC via standard fieldbus modules
Expandable versatility via the integrated easyNet (see: 'Networking')
The easySafety control relay uses a large range of tested safety and standard function blocks. This simplifies operation and offers comprehensive operating and diagnostic features.
Operation:
Emergency-stop
Guard door monitoring with optional interlocking/guard locking
Safe operation with two-hand control
Electro-sensitive protective equipment (ESPEs), with optional muting function
Hand or foot actuated permission switch
Operating mode selector switch
Starting elements
Standstill monitoring
Highest speed monitoring
Safe timing relay
Feedback circuit monitoring (EDM)
Other Pictures