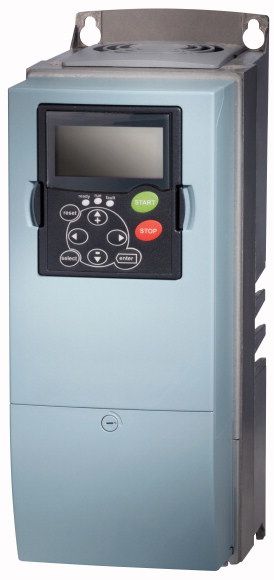 Features
SPX variable frequency drives are the perfect choice when it comes to demanding applications in which reliability, a highly dynamic response, precision, and power are a must. Popular applications include lifting equipment and conveyances (cranes, winches, elevators, lifts), compressors and oil pumps, chippers, crushers, mixers, extruders, take-up and pay-off units, and tunnel boring machines.
Multi-purpose SPX variable frequency drives are designed to cover a wide variety of applications while keeping things simple. In fact, with their excellent flexibility, they make it easy to adapt to additional process requirements for custom and complex applications used to control induction motors. On top of this, their sturdy design, which features integrated chokes and EMC filters, provides effective protection against interference from the grid. Finally, their sophisticated motor control design and effective protection features for both motor and variable frequency drive guarantee reliable operation.
The SPX9000 can be used in high power and/or high performance applications. Typical applications requiring high performance are: synchronization of multi-motor systems, positioning control applications, control and synchronization of winder systems. The SPX9000 supports fast communication between several frequency inverters. Equipped with superior processing power, the SPX9000 frequency inverter can utilise an absolute encoder or rotational feedback, to provide precise motor control. Sensor less vector and simple frequency control are selectable by parameter setting. Enclosures are available with IP21, IP54 and IP00 degree of protection.
SPX9000 yüksek güç ve/veya yüksek performans uygulamalarında kullanılabilir. Yüksek performans gerektiren tipik uygulamalar şunlardır: çok motorlu sistemlerin senkronizasyonu, kumanda uygulamalarının konumlandırılması, sarıcı sistemlerinin kontrolü ve senkronizasyonu. SPX9000, çok sayıda frekans invertörü arasında hızlı iletişimi desteklemektedir.
Üstün bir işleme gücü ile donatılan SPX9000 frekans invertörü tam motor kontrolü sağlamaak için bir mutlak kodlayıcı veya döngüsel geribildirim kullanabilmektedir.
Sensörsüz vektör ve basit frekans kontrolü parametre ayarları ile seçilebilmektedir. Kasalar IP21, IP54 ve IP00 koruma dereceleri ile sunulmaktadır.
Features
Ambient air temperature: -10 °C up to +50 °C without derating
Degree of protection with compact design: Up to 132/160 kW: IP21 (NEMA1) and IP54 (NEMA12)
I/O expansion with plug-in modules (5 slots)
Optional fieldbus connection (CANopen, PROFIBUS-DP, DeviceNet, LonWorks)
PID control and power factor correction (PFC)
Direct and parallel circuit solutions
Programmable start and application wizard for an easy parameter configuration process
Multiple display (multi-monitoring) for monitoring up to 3 different readings at the same time
V/Hz control with boost and slip compensation
Dynamic open-loop and closed-loop vector control
Internal braking chopper available in sizes up to FR9
Options
Communication modules (CANopen, PROFIBUS-DP, DeviceNet, LonWorks)
I/O expansions
External keypad
Mains chokes
Motor reactors
Sine-wave filters
9000XDrive parameter software.
Other Pictures