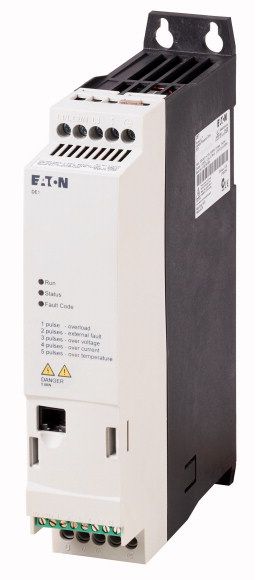 The new PowerXL™ series DE11 as a Variable Speed Starter closes the gap between motor starter and drive by taking the key benefits from both – the starter's easy handling and the drive's adjustable motor speed in one unit, for a reasonable price and at a high reliability. PowerXL™ DE11 makes the user achieve the requested energy efficieny (ErP directive) of the machine and ensures a fast as well as cost efficient assembly and commissioning as a conventional motor starter does.
Energy efficiency of the machine/application
Cost Efficiency by:
Fast and error-free installation
Commissioning Out-Of-The-Box (time savings up to 70%)
Easy change from a motor starter
No special drive skills or knowledge required
Reduced efforts on technical support
Integrated motor protection and short-circuit protection
Compact side-by-side and horizontal mounting
Lower cooling expenses (due to high permissible ambient temperatures)
PDS category C1 with integrated EMC filter.
Variant DE11 with detachable control terminals for serial production
Commissioning Out-Of-The-Box
Trip-free design for maximum machine availability:
Auto-reset
DC regulation
DC braking
PWM control
Comprehensive motor protection
60 °C ambient temperature (with partial derating at temperatures higher than 50 °C).
The optional DXE-EXT-SET module can be used to easily change parameters with a screwdriver
Modbus RTU on board
UL combination rating: 100 kA
Enclosure IP20
International standards (CE, UL, cUL, cTick, UkrSEPRO, RohHS).
Variant DE11 with CANopen on board.
Accessories:
External DXE-EXT-SET parameter configuration module
External keypad
Mains chokes
Motor choke
Parameter-Copy-Stick
drivesConnect parameter configuration software.
DE11 Variable Speed Starter with SmartWire-DT®
Manufacturers of machines and systems strive to achieve a balance between the maximum level of functionality and cost optimization. Eaton has inaugurated a new age in connection technology between the individual control panel components with SmartWire-DT®. SmartWire-DT® replaces the control wiring in all components right down to the sensor, thus enabling direct and continuous communication between the central control and moving plant components. Complex wiring becomes unnecessary, remote intelligence is created and entire device levels are eliminated, including of course the associated procurement and maintenance costs.
Features:
Reading and writing of cyclic and acyclic data
Complete range of commands to control the Variable Speed Starter
Complete range of commands for setting the parameters of the Variable Speed Starter
Complete access to status, error and diagnostic messages
Fast and error-free wiring using plug-in units
Cost optimization specific to series mechanical and plant engineering
Codesys function blocks allow all PowerXL series devices to connect easily to the Eaton PLC and HMIs.
drivesConnect parameter configuration software
drivesConnect is a powerful tool that can be used with DE1 Variable Speed Starter in order to configure parameters and run diagnostics.
Features:
Easy parameter structure
Parameters can also be easily changed offline
Monitor function: Real-time process data, such as motor current and motor frequency, are graphically displayed
Optional Bluetooth communication via communication stick (DX-COM-STICK)
Other Pictures